Review: Platinum PTL-5000a fountain pen

This review was previously posted in Swedish at the site for the podcast "Penna möter papper".

I was curious about this pen because it offered a gold nib at an affordable price. It's the cheapest newly manufactured gold nib pen that I know of (correct me if I'm wrong). Moreover, I have had good experiences with Platinum's products before. Johan was kind enough to lend me his pen for testing.
Unfortunately, Platinum no longer produces this pen since July 2019, but they are available used.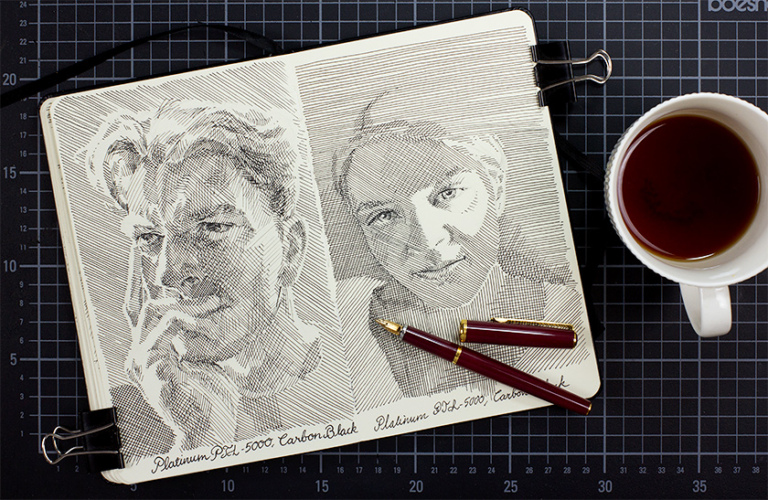 My perspective
I use fountain pens for two purposes – for writing and for drawing. My background in art was the reason why I became curious about fountain pens. It also led me to write more, and now I correspond with many people and use the pens in my daily notes.
The pen
The PTL-5000a from Japanese Platinum is a rather small pen with a discreet appearance. Under the hood, there is a 14k gold nib with a straight shape, which is similar to the nibs of many pens in Platinum's lower range. It is filled with Platinum's cartridges or their converter.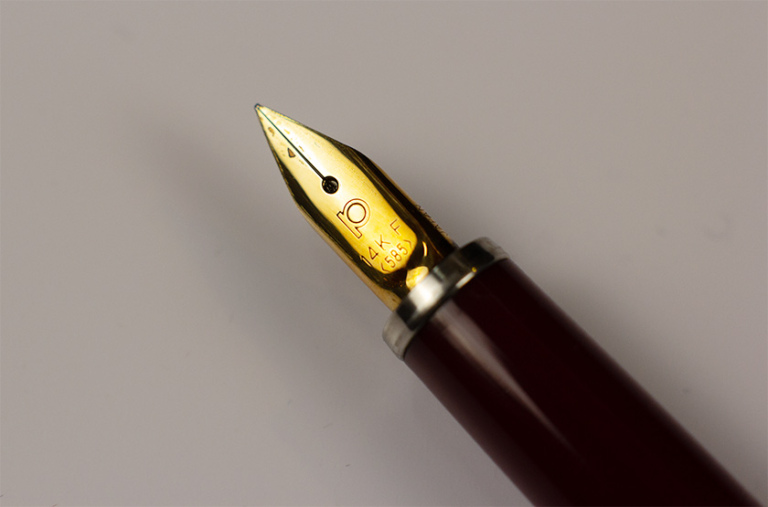 This pen is small, light, and slim. Without the cap but with the converter, it weighs around 12 grams. Posting the pen works well and makes it longer and slightly heavier (about 17 grams).
The pen I have in my hand is burgundy red with gold-colored details. Quite a discreet design, which suits me. To be honest, aesthetics of a pen are not super important to me, as long as it doesn't bother me. You can see the details of the pen's design in the photographs – if you want to know more, detailed information is just a Google search away.
Writing with it
If I am to confront the elephant in the room: does the gold nib in this Platinum pen make any difference?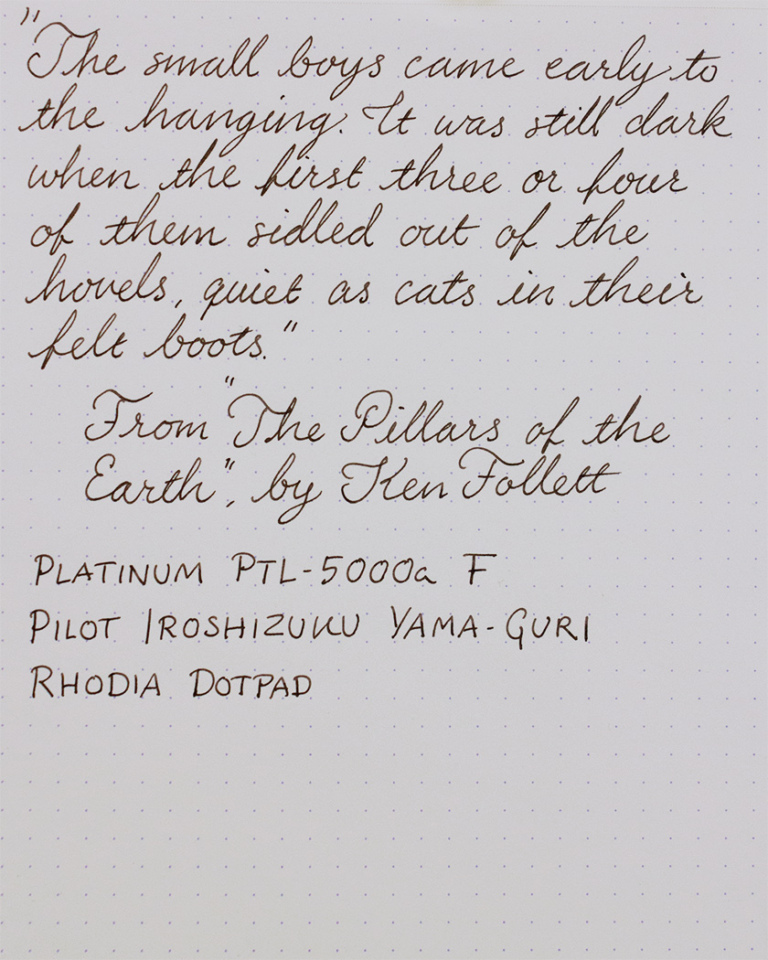 Sure, I feel a little feedback when I write, and with quite a bit of pressure, the nib gives a little variation. At the same time, I have steel nibs that achieve the same line. Compared to the EF steel nib in my TWSBI 580, the line width and variation are comparable, but the PTL-5000a feels slightly softer.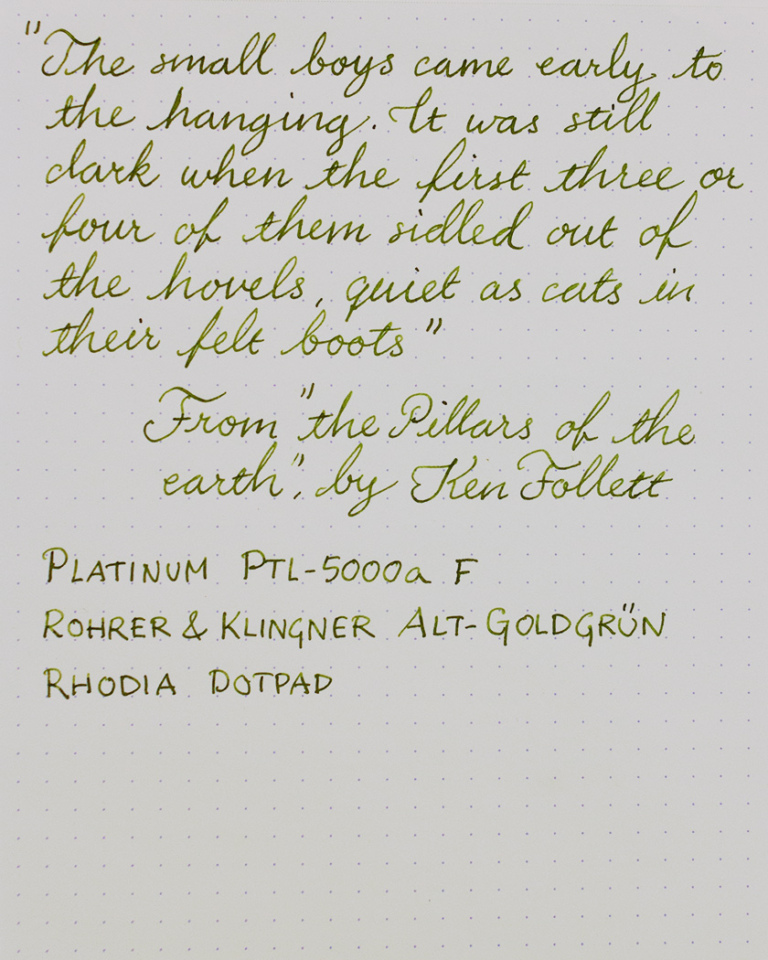 It cannot be called flexible, absolutely. The PTL-5000a is not even close to the line variation that can be obtained with my Mabie Todd Swan from the 1920s, which also has a gold nib of a similar size. So I don't think this is the pen to look for if you're seeking a different experience because of the gold nib.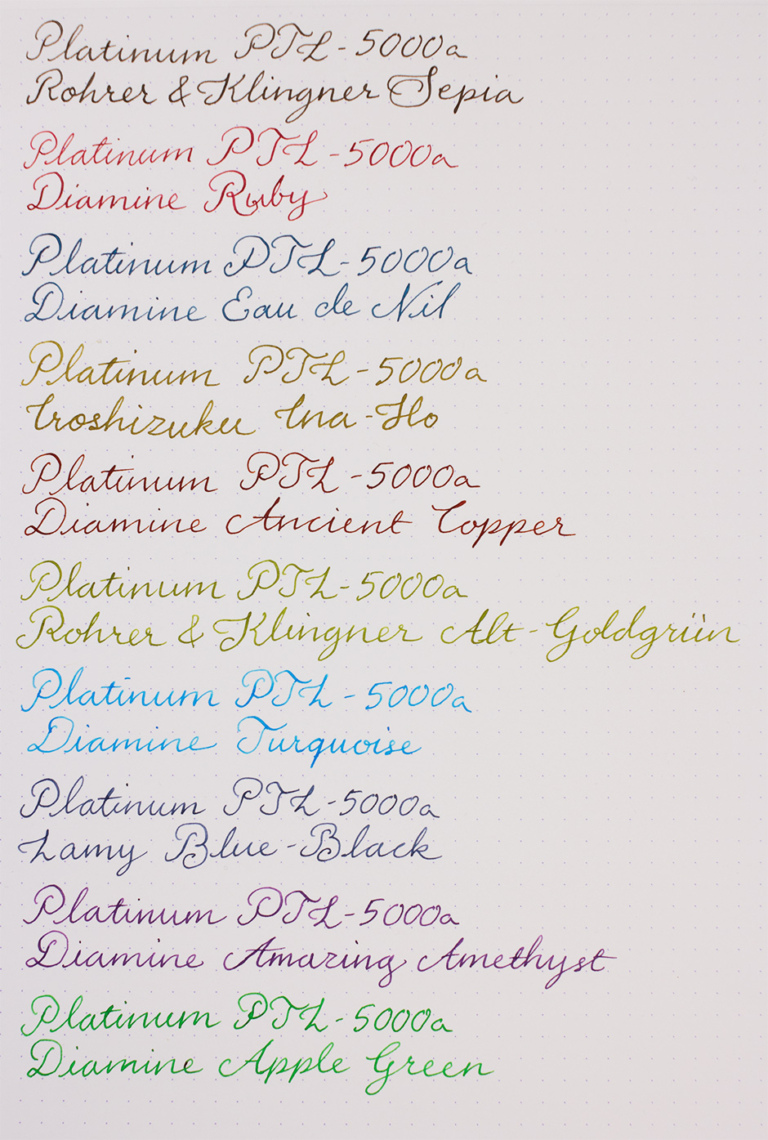 With all that said, the PTL-5000a is perfectly okay to write with. It's not super smooth, and it has feedback, which Platinum's pens usually have. I even think it has a little more feedback than my other Platinum pens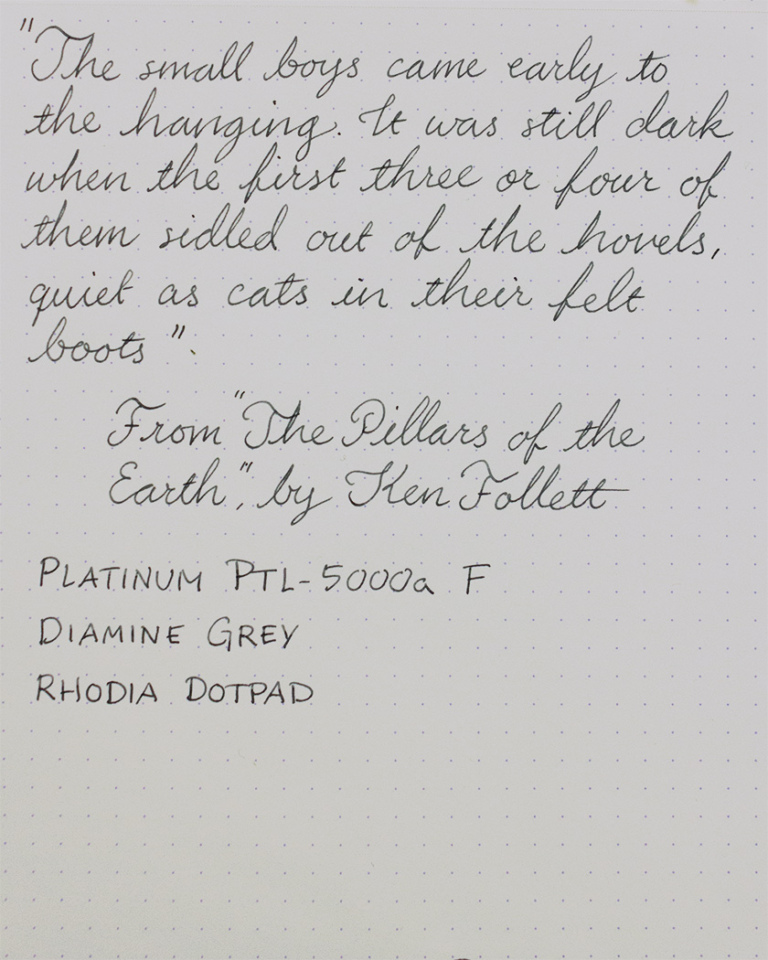 The ink flow is good but quite even, so it doesn't provide a lot of shading in writing.
Drawing with it
When I draw, some other properties of pens come to light. My grip and angle shift, and the lines become longer and faster.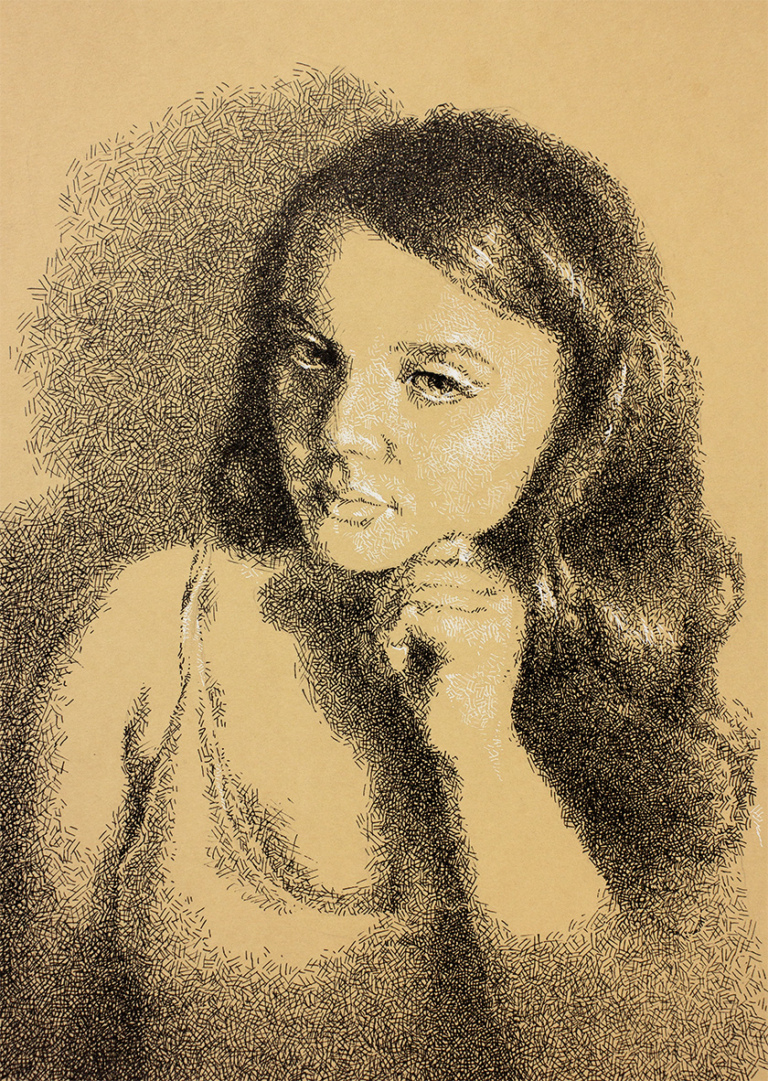 If the drawing is to be saved, painted over, or sold, the ink needs to withstand both water and light. My standard choice here is Platinum's pigmented ink Carbon Black. When using it, it's important that the ink doesn't dry out in the pen because it's difficult to clean. That's where this (and other) Platinum pens come in handy – they withstand drying out better than all my other pens.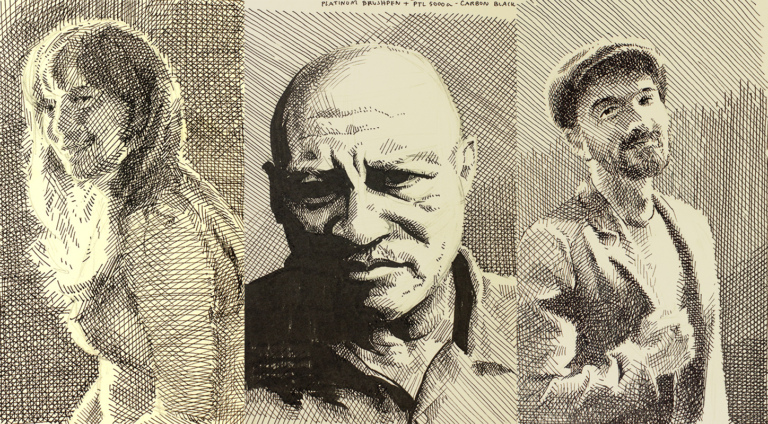 When I draw with the PTL-5000a, I don't feel like I have a really good grip. It is, as mentioned, small, light, and slim – but I have other pens that are not larger and that work. I think it is a combination of the petite pen and the small nib, neither firm or flexing, that gives me the feeling I'm not in control.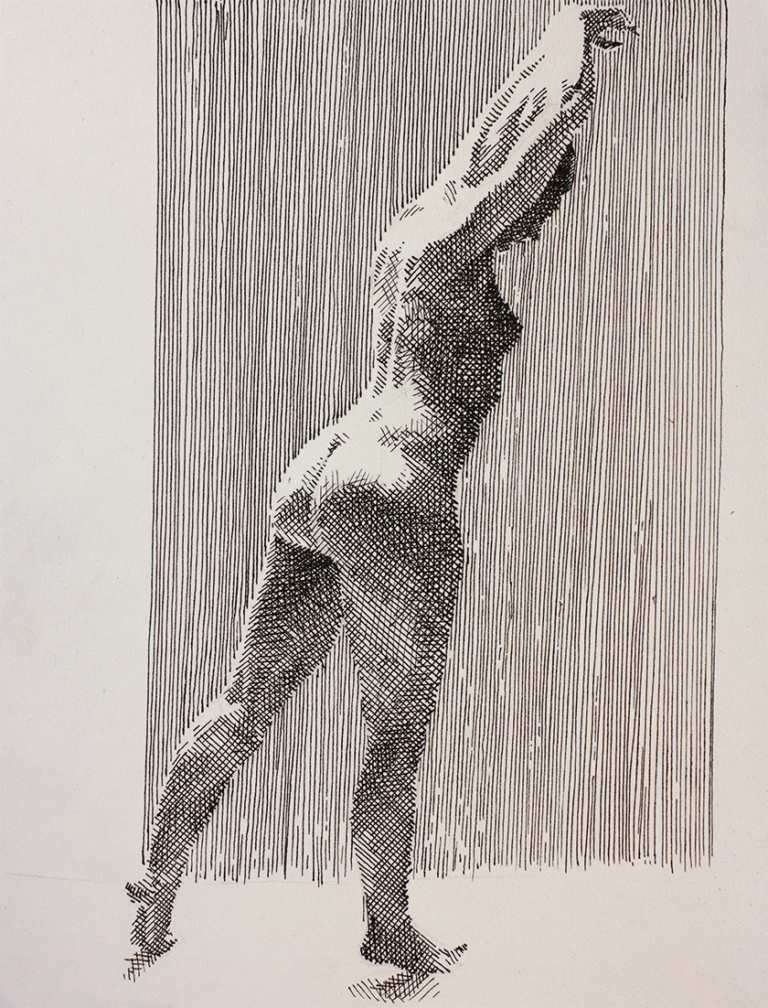 Conclusion
It's not always possible to put a finger on a feeling. There's nothing wrong with the Platinum PTl-5000a, but it doesn't quite agree with me. Especially not when I'm drawing. But maybe it fits in your hand.
And perhaps most importantly – is it worth buying one just to get a cheap gold nib? No, I don't think so.